keyholding & alarm response.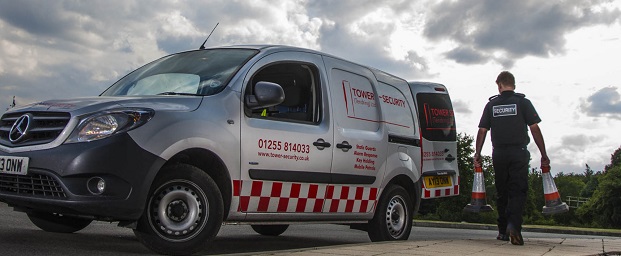 Don't risk the safety of staff, family or friends – protect your property with our professional keyholding and alarm response services. Both commercial premises and private properties can be protected for less than you would expect, with Tower Security's effective and affordable Keyholding and Alarm Response package. Tower Security guaranteed alarm responses are by trained, fully insured and Security Industry Authority (SIA) licensed personnel. No additional charges are incurred until security personnel reach the door in the event an alarm is activated. Should the alarm sound, a Tower Security team aim to be at the scene within 20 minutes no matter where the property is located in Essex and Suffolk.
Accurate Time Logging via GPS
Tamper Evident Keyholding Bags
Photographic Documentation of Keyholding
State-of-the-art Safe Storage
Upon arrival, Tower Security carries out an assessment to identify any potential intrusion, or damage to property, including accidental damage from flood and fire. The property will be secured if required, and emergency services will be called if needed, all without disturbing your sleep – or your holiday – unless otherwise requested.
Tower Security Keyholding and Alarm Response services are used and trusted by businesses, local authorities and residents throughout Essex and Suffolk. Whether you are a busy professional who is away from home for long periods, a business owner with premises to protect or a Facilities Manager in charge of on-site security we can help protect property, equipment, and possessions. Alarm Response also protects your staff too, reducing risk to lone workers and the associated loss of time and productivity.
Guaranteed alarm response 24 hours a day, 7 days a week, all year round. That's peace of mind that money can buy. Have more than one site you would like to apply this service to? Did you know we offer a multi-site discount? Contact us for a free no obligation quotation.

No Alarm? No Worries! We work with, and are recommended by, leading alarm companies and local alarm engineers and installers. During our initial on-site consultation, our security experts carry out a full risk assessment to identify any weaknesses in existing security systems, and find the right solutions. Not only can we make general security recommendations, we can also advise on insurance compliance and arrange for the installation of adequate alarm systems, and the correct locks if needed, along with other measures some of which come at little to no cost.
Static Guards | Mobile Patrols | Keyholding | Alarm Response |Void Property Inspection
CRB checked and licensed by the Security Industry Authority (SIA)