Static Security Guards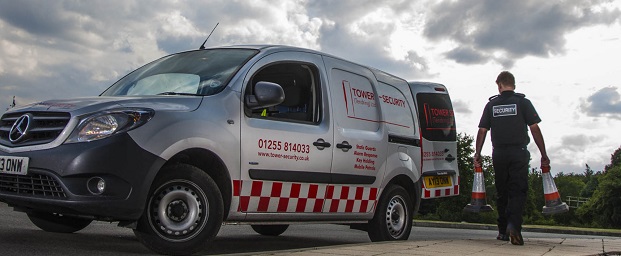 Priced from £13.50 per hour, per guard, on-site security personnel are the most effective deterrent when it comes to preventing unwelcome visitors from entering your premises.
Factories, construction sites, car showrooms, shopping centres, privately owned offices, and local authority premises are just a few of the sectors that continue to take advantage of Tower Security's affordable and effective Static Guard services. All Security Guards are trained to meet the excellent standards required by the Security Industry Authority (SIA), and have been chosen for commitment to professionalism at all times.
Static Guards
Manned Guarding
Gate Security
Night Watch
Concierge
Dog Handlers
The Static Security Guarding team is comprised of mature, experienced security professionals, and also includes trained dog handlers who work in partnership with their own guard dog – an extremely efficient and cost-effective on-site security option.
The experience of each team member is 100% supported by our investment in the latest technology and commitment to provide ongoing training.
Highly visible and highly trained operatives on permanent patrol act to safeguard property, equipment and possessions. 24 hours a day, 7 days a week, all year round, without fail.

To provide the best, and most suitable security service possible to meet each individual client's needs, Tower Security conduct an initial risk assessment. This assessment will highlight existing weaknesses, enabling us to secure the property where required, and arrange for the installation of alarms and CCTV if needed. We understand the risks that businesses and organisations face, and work at all times to use our skills and knowledge to safeguard property and personnel in the most professional way at all times.
Static Guards | Mobile Patrols | Keyholding | Alarm Response |Void Property Inspection
CRB checked and licensed by the Security Industry Authority (SIA)