Mobile Security Guards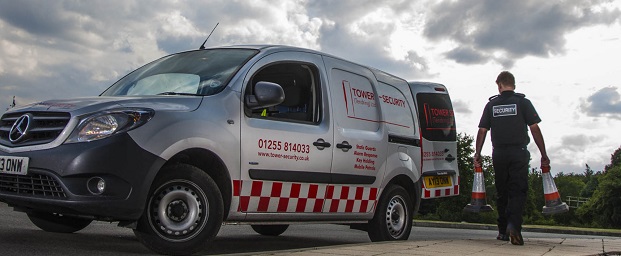 From just £5.00, Mobile Patrols are highly efficient and cost effective security solutions to secure, monitor and protect property, equipment and possessions. Industrial estates, constructions sites, schools, shopping centres and leisure facilities are just a few types of premises that Tower Security's Mobile Security services protect with carefully chosen security teams. Each security guard has been trained to meet the excellent standards required by the Security Industry Authority (SIA), and has been vetted to ensure commitment to professionalism is maintained at all times.
Mobile Units
Foot Patrols
Routine Patrols
Rapid Response Teams
Working closely with local police forces, Tower Security uses the latest technology to provide a range of responsive and perceptive Mobile Security services. This includes routine and reactive mobile units working from a fleet of highly visible modern vehicles each fitted with state-of-the art tracking systems,
As well as foot patrols to check for signs of forced entry and other potentially costly problems such as vandalism, burst pipes and even fire. In the event of a security breach
Rapid response teams are guaranteed to attend 24 hours a day, 7 days a week, all year round – aiming to be on site within 20 minutes of the alarm sounding throughout Essex and Suffolk.
This efficient and cost-effective service from Tower Security is preferred and trusted by local authorities, schools and commercial clients throughout East Anglia. Mobile patrols can be used as a stand-alone service or in combination with our other security measures. Call us today to discuss your needs – we promise that we won't talk you into something you don't need, and we only ever recommend what we believe you really require.
Tower Security can secure the premises immediately, liaise with the appropriate emergency services and then contact your chosen contractor to re-secure your premises – all without disturbing your sleep, unless otherwise requested.
Static Guards | Mobile Patrols | Keyholding | Alarm Response |Void Property Inspection
CRB checked and licensed by the Security Industry Authority (SIA)